Russian Boar – SCI Boar Hunting – Ready for Africa!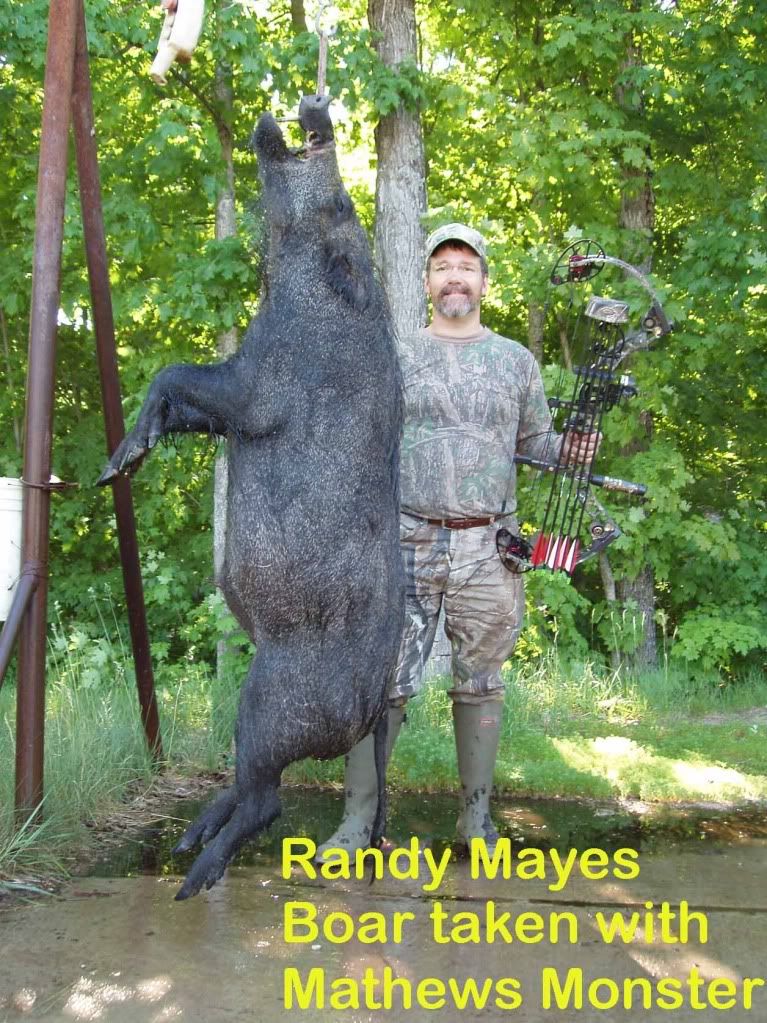 The impenetrable wall of the green surrounded us. Cedars, hemlocks, young maples, and pucker brush on either side. It was a forest curtain, but it might has well been the iron curtain. Listening closely, Randy, Damon, and I all made eye contact as the grunts and snorts moved in the brush on either side. The Boars were close heightning the sense of danger. Only one Trophy Boar had to cross on the four foot wide trail in front of us. The snorts and grunts moved closer and closer, it felt as though they could bust out beneath our legs. Silence. Everything became dead silent. Randy was to the left and Damon to the right. Both directions were covered. Adrenalin pumped through our veins. We peered into the dense underbrush like that of Central Africa or some other exotic land. "SFFFOOOW" A sow blew her alert call. Busted. The bush came alive and boars began stampeding through the forest. Mud was flying as saplings and bushes were bulldozed. It was one large black mass ripping and tearing through the woods. In thirty three seconds, it was silent again. This wasn't Randy and Damon's first time hunting Russian Boar. They had both been here before, only then it was winter. Today, they were experiencing a whole different ball game. Randy Mayes and Damon Mills had purchased the  "SCI Supreme Cast and Blast Package" at the Badgerland Chapter Banquet.  There package was for both for Hunting Russian Boar  and Fishing  Trophy Lake Trout at Stannard Rock in Lake Superior.   Neither of them had ever experienced a Summer Adventure at Bear Mountain. Cape Buffalo in Mozambique was Randy's next adventure. This was the perfect opportunity to fine tune his hunting gear before going on an African Dangerous Game bow hunt. That's right, BOW HUNT! Randy had the new Mathews Monster and wanted to be sure everything was going to perform. Damon on the other hand just got back from South Africa in May. And what is the first thing you do when you get back from Africa?  "Go Hunting"  There was no way Damon was going to wait until September or October to get his fix for adventure again. He had brought his new "toy," the .450 Marlin XLR. What better way to keep your skills sharp, equipment tuned, and passion alive than hunting Russian Boars during the Summer months. The evening ended with the "Running of the Boars". Randy and Damon both got a good taste of the great wall of green. The Time is Now Close encounters filled the first half of day three. A constant swirling breeze gave the Boars the upper hand. There were several busted stalks and by the time lunch rolled around, Randy's quiver remained full and Damon's gun hadn't fired. The pressure was on, but with the Boars being more active in the evening, everyone's confindence was still high. After an hour after lunch break, Kenny and Randy spotted a herd of Boars in a common feeding area. They circled around to get the wind in their favor. A Trophy Boar had been spotted and Randy began his final approach. Monster Kill Moving slow and steady inch by inch, Randy got to within 27 yards and drew his 75 lb Mathews Monster just as the Beast turned broadside. Randy released his arrow sending a 175 grain two blade broad head slicing through the lungs. Instantly the herd ran off with the hit boar heading dead away through the wet and muddy underbrush. Waiting a full thirty minutes the four of us split up. Blood on the arrow was a radiant pink. Kenny and Randy followed the trail into the thicket while Damon and I moved up to another trail to inspect for clues of the Boar crossing. Though both Randy and Kenny were positive it was a great hit, there was little blood for them to follow. Without the blood, they resorted to tracking the mud splatter on the trees and bushes. A nerve racking twenty minutes ticked by. There was no evidence that the Boar had crossed our trail and Kenny and Randy were still trailing through the thick brambles and mud. Just then, Kenny called on the radio, "Boar Down, Boar Down!" Pulling the Boar out of the tangles of brush, Randy's hit was a perfect double lung hit. He and his new Mathews Monster put the smack down. With the beast on its way to the trophy poll for more pictures, Damon and I headed off to the stand of maples from the night before. The idea was to ambush the Boars as they came up out of the swamp and into the hardwoods. There was plenty of daylight this time around so we made ourselves comfortable. A 450 Marlin Roars in the Northern Forest of Michigan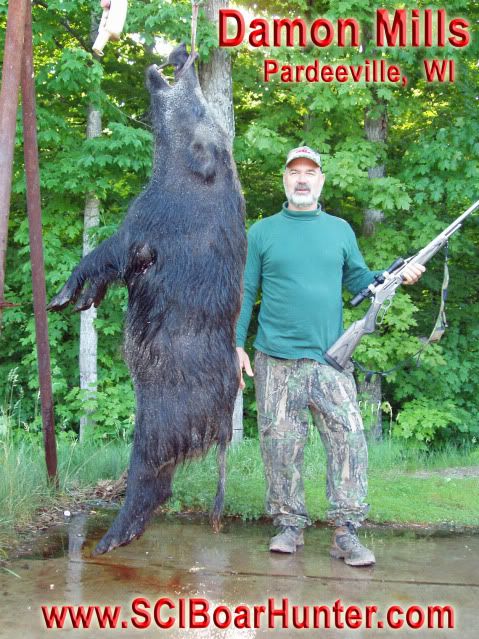 It didn't take long after settling in and a half dozen Junior Boars (last years litter) began moving through at close range. Litter mates still together after a long harsh winter. One particular female was the leader of the group and she let the others know. Pushing and shoving the others, nipping them on their backsides. It was hard not to crack a smile as they were comical in trying to establish dominance amongst each other. Looking up at the valley edge of the transition zone, I spotted a Boar and tapped Damon on the shoulder. He slowly raised his rifle. We had been watching and entertaining ourselves with the Juniors and had almost missed this Boar passing through. The breeze floated over our faces as we judged him. The Boar was solo making it harder to determine size, but the long face and hump on his shoulders are tell tale signs of a good mature Boar. He cautiously stepped into the clearing to cross into the hardwoods. Giving Damon the green light, and from 60 yards away, he sent a 350 grain Hornady smashing through both shoulders. The Boar hit the ground snout first and gave one final kick. Grinning at each other we shook hands on an impressive shot on a noble beast. Damon's kill was a perfect ending to their SCI Cast and Blast. Safari Club International is a great way to be a part of the hunting community. It is a first class organization and helps hunters like you find reputable outfitters from all over the world. Bear Mountain has had the honor of donating hunting packages to numerous SCI Chapters so that hunters can experience real Russian Boar Hunting without leaving North America.